MEG Project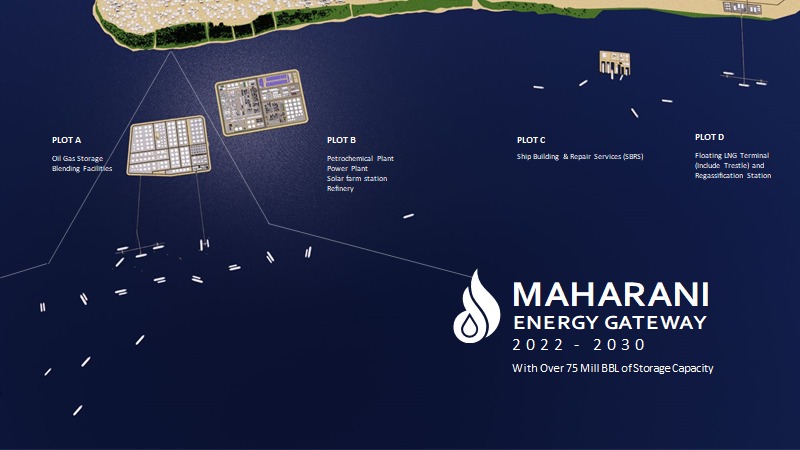 The MEG Hub is a large industrial energy complex designed to house a variety of maritime and energy-related enterprises. It is strategically located along the Straits of Malacca, one of the world's busiest waterways for international trade and shipping, and offers numerous opportunities for growth and development.
The MEG Hub ecosystem, which will consist of three plots of man-made islands spanning a total area of 3,200 acres, will include an impressive array of facilities, favourable business environment, a Free Industrial Zone and a Free Commercial Zone. Oil and gas storage depots, trading centres, refineries, petrochemical plants, renewable and alternative energy ventures, MEG's business and operation complex, and MEG's data centre will be among them. Complementary amenities, such as 10 Ship-To-Ship Spots, a dedicated 200-acre island for ship maintenance and repair, and an LNG Floating Terminal, will enhance the experience.
Muar, also known as "Bandar Maharani," is an ideal site for the MEG Hub. This prominent town in Malaysia's Johor state was chosen for its strategic location and existing industrial infrastructure. Bandar Maharani is easily accessible for business operations due to its convenient connectivity to major Malaysian cities such as Kuala Lumpur and Johor.
Straits of Malacca
Our site's strategic location along the Straits of Malacca is extremely important, positioning it along one of the most lucrative routes in the world. Because of its proximity to a critical and major sea lane for global energy traffic, this prime location provides significant advantages. Surprisingly, this route carries approximately 80% of the world's seaborne oil and energy traffic, providing significant benefits.
We capitalise on this advantageous position at Maharani Energy Gateway, witnessing the transit of a staggering 19 million barrels of heavy and light oil through this strait. We offer over 60 million barrels of storage space to our esteemed clients in the region by leveraging this prime location. This vast storage capacity allows us to efficiently meet the needs of our valued customers.
A bathymetric survey confirms our location's advantages, revealing that the seabed near Muar has a naturally advantageous configuration, making it an ideal location for a deep-sea port. Furthermore, the landmass on either side of the Malacca Strait acts as a protective barrier, effectively shielding the area from monsoons and strong winds, ensuring calm waters for vessels all year.
We are well-equipped to serve our clients and ensure smooth operations in this critical region, thanks to our deep-sea port and extensive storage capacity. Let us seize this once-in-a-lifetime opportunity as we chart a course for a future of limitless possibilities in the global energy landscape.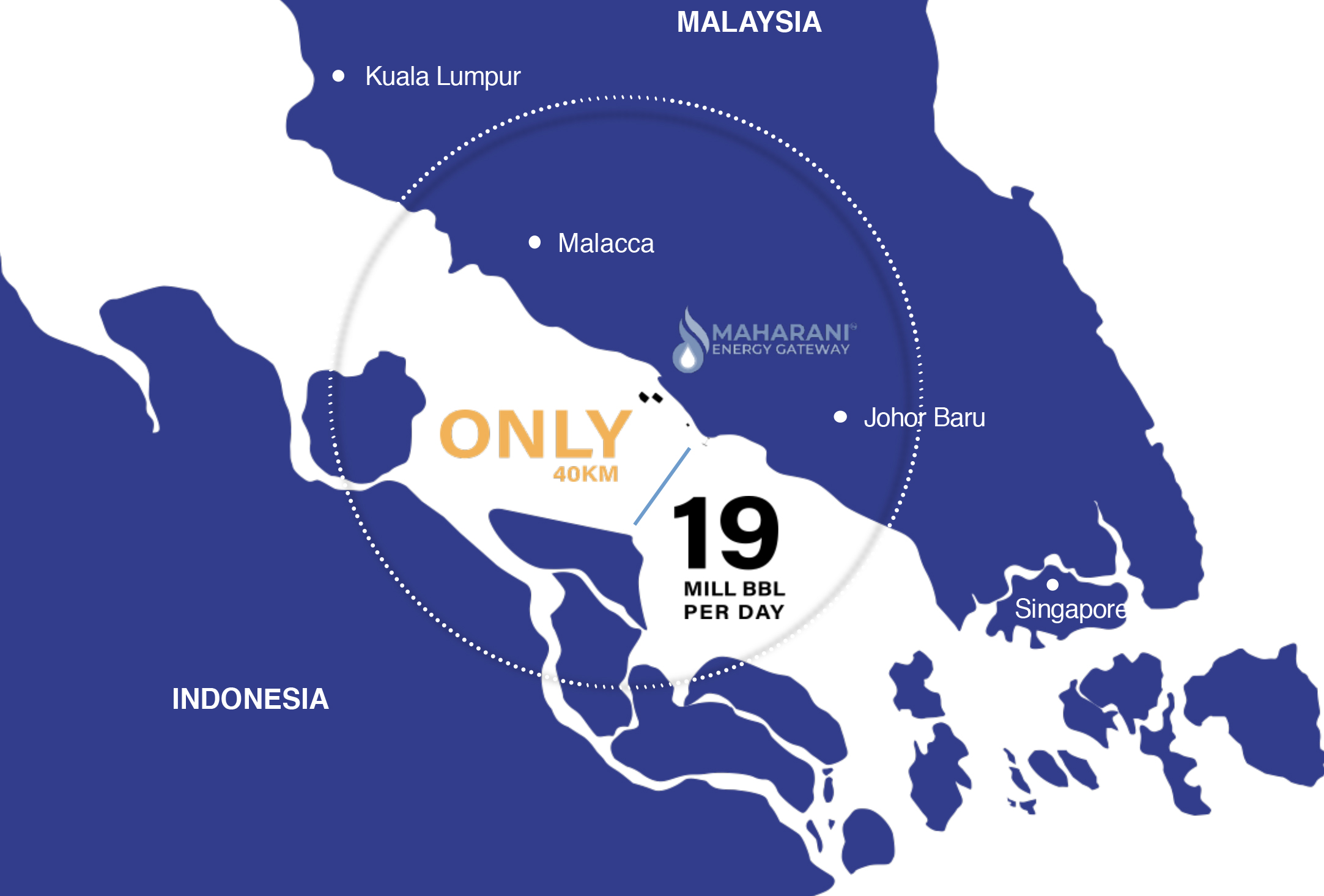 Strategic Partnership
The success of Maharani Energy Gateway is attributed to its experience and pioneering work in artificial island construction, as well as the knowledge and capacities of our acclaimed concession partners. This effort has the potential to make considerable advances and elevate Johor, Malaysia, to the level of a prominent global energy hub in Southeast Asia.
Our strategic geographic location, favourable business environment, a Free Industrial Zone and a Free Commercial Zone, puts us in an excellent position to fully reap the benefits of the Regional Comprehensive Economic Partnership ("RCEP"), a regional trade and investment agreement aimed at improving economic cooperation.
Strategic collaboration with MEG provides significant benefits and unparalleled opportunities to early movers in the construction of the energy hub, all backed by our unwavering support. Together, we can realise this remarkable project's vision and contribute to the region's energy and maritime sectors' growth and development.
Driving In-Country Value
Through its energy hub, Maharani Energy Gateway is dedicated to generating In-Country Value (ICV). We prioritise empowering small and medium-sized businesses (SMEs), improving the local workforce through comprehensive training, and implementing impactful socioeconomic programmes in order to have a long-term positive impact beyond our commercial operations. Our execution plan, in conjunction with adherence to global standards, is important to achieving these goals. Through our constant dedication, we strive to enrich the community and make a lasting influence in the region.
Maharani Energy Gateway is committed to being a responsible corporate citizen, enabling inclusive growth, and contributing to the advancement of the country's energy sector by aggressively promoting In-Country Value. We strive to make a significant and long-lasting positive impact on the communities we serve in collaboration with our partners and stakeholders.
Sustainability
All of our business divisions have made a clear commitment to the framework of People, Planet, and Profit in order to ensure long-term prosperity and success. Through this approach, we strive to create a meaningful impact on society, the environment, and our overall success.

PEOPLE
We prioritize the well-being and development of our employees, customers, and communities.

PLANET
Ensuring eco-friendly practices and environmental preservation.

PROFIT
Responsible financial management allows us to drive positive change and sustain our business.

<! -- business -->